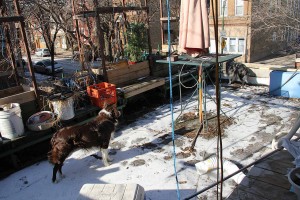 A new year growing season is upon us and here's how the veranda looks at the end of January.  Not much snow.  There's a roof leak at the drain on SW corners (far left) that will need to be solved this Spring.
The north wall (upper right) pergola and planters were torn down and will be replaced by a new and more useful structure.  I put that pergola up in 2004 and had planters sitting on the north wall.  Because these planters were only 1 foot wide nothing seemed to grow right in them.  There was some major contamination of the treated wood in the planter built only two years ago.  I suspect either bird poop or squirrel urine.
The new structure will house all indoor plants and will have a sun shade to keep direct sunlight from burning them.  It will be a 39″ x 86″ tabletop with a 6.5′ high cage  for plant  support and to keep them from blowing off the roof.  I'll start on this as soon as we get nice days again — perhaps in March.  The just torn down pergola built in 2004 was started on March 17 — St. Patricks Day.  Time is going by fast.
Haven't had a post here in awhile.  I did a lot of fall planting including two new trees in front parkway but I haven't been motivated to photograph them or update this site.  Hopefully this will be a good gardening year.  I'm consolidating even more this year and maybe finally will try out a drip irrigation system as a test.  All green roof installations require drip irrigation because no one will want to keep them watered.
Until then….