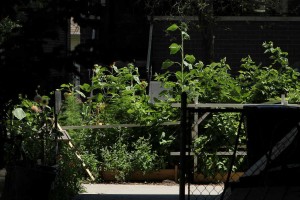 View of front parkway as you approach from the west on July 27.  As of today, 8/4, raspberries are done for the year as well as catnip.  Sunflowers are blooming out.  I pruned all raspberry branches that produced fruit per instructions since they will not produce next year.  This has thinned the bushes significantly which will allow branches for next year to become bigger and more established.  I plan not to prune them and tie them up so they start out growing straight up.  I'm hoping to get them to 10 feet or more and then arch over the sidewalk.  We'll see how that works out next season.  Also the time lapse keeps snapping away pics,
In other news main roof tomatoes don't look well but may produce some.  I would categorize this crop as a failure and it could be due to lack of fertilizing or too much rain in May and June or bad seedlings.  It seems the more expensive the seedlings are the worse they grow out.  Need to test this more next season.  I haven't seen any mites however.
Since I haven't documented this here are main roof cage positions.
There are only 8 compared to 15 in the last seasons.  This makes watering much easier but it's still a chore.  P=peppers T=tomatoes and C=Cleome.  The peppers are various super hot variety that I'm growing on consignment.  Although they struggled they are all doing well on main roof.
Veranda peppers doing worse so I'm letting morning glory vines grow out.  So far the reduced veranda has been easy to water as well.  I haven't taken any pics of veranda or main roof since nothing is very interesting.  Debris clumps on main roof need a writeup soon however.