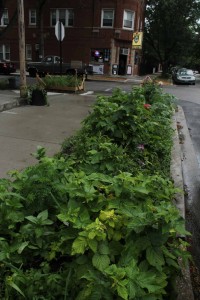 A new corner was installed last season and they turned the front into a front parkway.  A container grew raspberries and catnip here in previous years and now the entire 20+ feet is an in ground garden.  I was able to save the mature raspberries from last season and they are doing well.  Catnip survived and I planted Cleome, and a lot of flowering seeds.  There are some volunteer tomatoes and some plants I can't identify.
The alley planters were disassembled and all that potting soil was used to somewhat raise the center of this bed.  In the distance I built a raised bed structure to contain the potting soil.  That box is completely wildflower.
I'm letting all tree seedlings grow.  By the time the weather cleared to plant trees it was too late so I have to wait until August.  If some seedlings look good I may defer to them to grow into full size trees in the next 20 years or so.