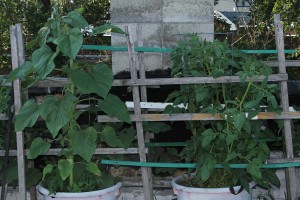 Here's a shot of caged position 3 and 4 taken on 7/14.  Caged position 3  contains 1 eggplant, 1 habenero, and 1 sunflower as companion plant to attract bees.  Last year I used Cleome but Gesethemane where I buy seedlings chose not to carry it this year so I was stuck with seeding sunflowers.  Caged position 4 (right) is a Brandywine tomato that looks pretty healthy.  Last year I skipped Brandywines.  After discovering mites and getting a decent crop last year I decided to try them again this year.  Like last year the caged position layout is as follows:
OTOTTOTTOTTOTO
where O is something other than tomatoes and T are tomatoes.  The O positions provide a buffer in case disease hits one of the tomatoes.  The buffer plants will hopefully keep disease from wiping out the entire crop like what has happened in so many past years.  The eight tomato plants are 4 Celebrities, 2 Big Boys, and 2 Brandywines.  Throughout the years I have found Celebrities to be the most resilient of tomatoes.  The O caged positions vary.  Some have two eggplants some have eggplant and habenero.  Most have a sunflower to attract bees.  I think Cleome is better at this because they flower much sooner than sunflowers and they'll continue to flower throughout the season.  These caged positions are the plants I focus on for study.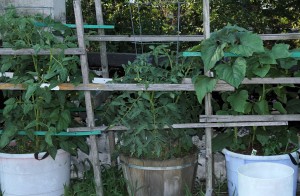 To the left are caged position 4, 5, and 6.
You may notice that the cages are starting to lean.  I'll need to rebuild these next season.  I have a design to prefab these on the ground and then snap them together on the roof so they're straight and square.  This design was cobbled together back around 2007 using scrap wood.  But it works well.  As can be seen from this shot all plants get a metal hoop cage which also helps support the plant.