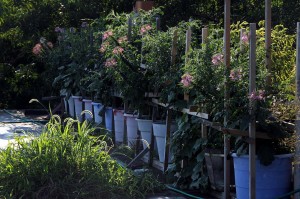 Here's a pic of all 14 caged positions taken at an angle.  The big pink flowers are Cleome which draw the bees which theoretically should help the tomato plants.  In the foreground to the left is the debris clump Lost Island from last season.  Debris clumps are piles of old plant carcasses and roots that have been tossed onto the roof and left to support anything that can grow in that environment.  The debris clumps have sufferred this year from drought conditions but plant life still recovers in them.  More on them later.
Update on tomatoes: Lots of strong second growth but mites are getting higher and higher.  May need to do another hard prune in a few days.  Giving them two hard showers tonight.  Heading to Home Depot for that Neem organic stuff tomorrow.  Although this is frustrating, I think my actions might have some effect.  Compared to last year's photos, the tomatoes look much better this year at this date.
Update 8/1:  Didn't get Neem but got some bottle containing a bunch of oils claiming to be organic.  Gave tomatoes another hard shower and applied about 1/2 a bottle of that spray on all 8.  Pulled a few samples and saw some mites but not many.  Still lots of curled leaves and it seems relentless.  Even though the plants are growing well it seems as if the mites might eventually win.  Hopefully this spray has some effect.  Will water everything later tonight.  In a few days we'll hit the date when everything really went south last year.  The green tomatoes look good however.  Nice and round and no BER (knock on wood).  May have to do another hard prune soon.  Probably should fertilize too.  Will fertilize tonight.